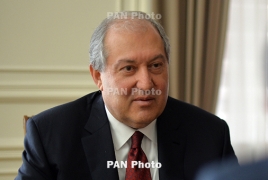 November 16, 2018 - 14:35 AMT
PanARMENIAN.Net - Armenian President Armen Sarkissian has said at a summit in Rome that those, who recognize the fact of the rapidly changing and developing world will become tomorrow's leaders.
Sarkissian participated in the conference "Digital Geopolitics: New Borders, Growth, and National Security" in the Italian capital on Wednesday, November 14.
The Conference was attended also by the Minister of Defense of Italy Elizabetta Trenta, the organizers of the Conference were represented by the Executive Director and President of Elettronica Group Enzo Benigni, a member of the Administration of the 44th US President Barack Obama political expert Alec Ross, representatives of scientific and expert community.
At the Conference, Sarkissian gave remarks and spoke about globalization and the changing world, noting that the world is witnessing rapid changes today.
"The world is changing faster and faster. We are witnessing quant indications. And those, who appreciate that fact, will become tomorrow's leaders. Globalization has changed from macro to micro: companies, individuals are now unstoppable," the Armenian President said.
At the conference, issues related to the digital transformation of industry, changes registered under the new conditions in the defense, security, and aerospace areas were also discussed.