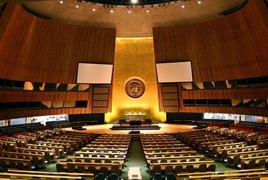 November 16, 2018 - 17:08 AMT
PanARMENIAN.Net - Armenia on Friday, November 16 voted against the Ukraine-led resolution which "condemns human rights violations in the region". The bill was nevertheless approved by the Third Committee of the UN General Assembly.
The Kiev-backed document was supported by 67 delegations. 26 voted against, including Russia, Belarus, China, India, Serbia and South Africa. 87 nations abstained.
It is the third time that the Committee which is engaged in social, humanitarian affairs and human rights issues has endorsed such a resolution.
The United Nations General Assembly will consider two resolutions on Ukraine at the 73rd session in December: one that focuses on "the violation of human rights in Crimea" and the other on "the militarization of the Sea of Azov."