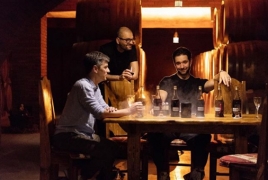 November 28, 2018 - 17:24 AMT
PanARMENIAN.Net - Reddit co-founder Alexis Ohanian has revealed his favorite way to drink Armenian brandy, and the process involves apricots.
The Armenian-American entrepreneur recently joined forces with Flaviar to release a new brandy called Shakmat XO directly to consumers.
"If they're available, the best way is with Armenian apricots. You just pop out the pith and use it as a shot glass. Getting Armenian apricots is a little hard here in Florida, so regular ones work too. Most nights, I'm just sipping on it neat with a little dark chocolate," Ohanian said in an interview with Food and Wine Magazine.
"But more importantly—do it with people you love. I know its kitschy, but Armenians are very proud of our hospitality as a people who have been displaced all over the world. Not by choice, of course, but by genocide. Whether you are Armenian or not, there's always a seat at the table for everyone."
Ohanian revealed that he took his fifth trip to Armenia following the velvet revolution and felt "massive change."
"I've been going every couple of years since 2010. It impresses me every time seeing how much has changed in such a short period. Most remarkably this year was the peaceful revolution," he said.
"This was the first trip back where I felt a massive change in the energy around Yerevan, and all over the country. A huge shift had taken place and there was a sense of optimism, especially among the younger generation."