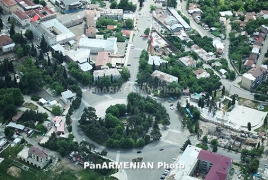 December 7, 2018 - 18:33 AMT
PanARMENIAN.Net - Artsakh (Nagorno Karabakh) President Bako Sahakyan on Friday, December 7 visited the Stepanakert Memorial Complex to pay tribute to the memory of the victims of a devastating earthquake that shook Armenia 30 years ago.
Accompanied by top officials, Sahakyan laid a wreath at the monument dedicated to the innocent victims of the disaster.
Armenia commemorates the 30th anniversary of the devastating earthquake that hit the northwestern regions of the country on December 7, 1988.
30 years ago today, at 11:41 am local time, a magnitude 6.9 earthquake shook northwestern Armenia followed by a magnitude 5.8 aftershock four minutes later. In the epicenter, the village of Nalband, the tremors were reported to measure 10 on the Richter scale.
The earthquake leveled the cities of Spitak and Gyumri, as well as about 60 villages, leaving al least 25,000 people dead, 100,000 wounded and 500,000 homeless.