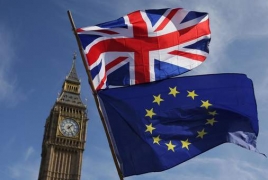 January 16, 2019 - 13:01 AMT
PanARMENIAN.Net - British lawmakers have soundly rejected Prime Minister Theresa May's Brexit deal, in the biggest defeat for any UK government in the modern parliamentary era.
After 200 speeches across eight days of debate, members of the House of Commons ignored the Prime Minister's final pleas to support her plan and threw it out by 432 votes to 202.
The margin of defeat -- greater than the previous record set in 1924 -- means the Prime Minister now faces a deep political crisis with no clear way forward.
The opposition Labour party immediately triggered a vote of no-confidence in May's government, hoping to capitalize on a perilous moment to force a general election. Acknowledging the scale of the defeat, the Prime Minister said she would allow time for the House of Commons to debate the motion on Wednesday.
Labour leader Jeremy Corbyn called the defeat "catastrophic" and said a vote of no-confidence would allow the House of Commons to "give its verdict on the sheer incompetence of this government."
But May urged lawmakers to listen to the British citizens who voted to leave the EU. "I ask members on all sides of the house to listen to the British people, who want this issue settled, and to work with the government to do just that," May said.
May now has 24 hours to save her government. If she loses the vote of no-confidence, it makes a general election more likely.
If she survives, however, May said she would follow a two-stage process to break the Brexit impasse. First, she offered cross-party talks with lawmakers as an attempt to try and figure out a way forward. May promised the government would approach those talks in a "constructive" manner.
Then, if a consensus emerges, she would take a revised plan to the European Union.