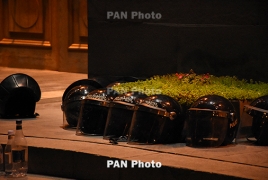 January 17, 2019 - 13:42 AMT
PanARMENIAN.Net - Armenia's new government has inherited a country plagued with corruption and myriad human rights problems, Human Rights Watch said today in its World Report 2019. As the new leadership embarks on rebuilding the institutions and responding to accumulated public grievances, they should ensure respect for due process and fundamental human rights.
Weeks of popular protests in 2018 forced the outgoing president, Serzh Sargsyan, to step down after he tried to hold onto power as prime minister, following the end of his second presidential term. The protest leader, the opposition politician Nikol Pashinyan, became Armenia's prime minister, but resigned in October to trigger snap parliamentary elections. International observers found that the December parliamentary vote was conducted with "broad public trust," and was free from abuses that marred past elections, including vote buying and pressure on voters."
"Ensuring a free and fair vote is an important first step for Armenia's new leadership," said Giorgi Gogia, associate Europe and Central Asia director at Human Rights Watch. "But it's only a beginning. The authorities need to use this mandate to push through reforms to address the human rights problems that brought people to the streets."
Among the grievances Pashinyan's government inherited is a long record of police impunity for using excessive force to break up largely peaceful protests. The new government made some progress in investigations into abuses that had been stalled for years. It revived an investigation into the March 2008 deadly clashes between protesters and security forces, and authorities brought charges against then-president Robert Kocharyan and two commanders. They also brought charges against a policeman accused of seriously ill-treating four defendants in a court basement.
However, in September, the authorities suspended the investigation into another similar episode in July 2016.
As the authorities deal with past grievances, they should fully respect due process rights for all detainees and ensure independence of the judiciary, Human Rights Watch said.
Other human rights concerns in Armenia include domestic violence; violence and discrimination against lesbian, gay, bisexual, and transgender (LGBT) people; lack of access to quality education for children with disabilities; and institutionalization of people with psychosocial disabilities (mental health conditions) and intellectual disabilities.
In the 674-page World Report 2019, its 29th edition, Human Rights Watch reviewed human rights practices in more than 100 countries.