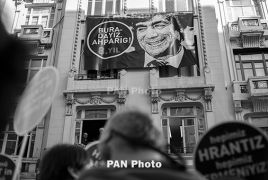 January 21, 2019 - 10:31 AMT
PanARMENIAN.Net - Thousands of protesters marked the 12th anniversary of a Turkish-Armenian journalist's murder on Saturday, Jan. 19 as outrage continues to grow over a trial which failed to shed light on alleged official negligence or even collusion, Turkish news site Diken reported.
Jan. 19 marks the 12th anniversary of prominent Armenian-Turkish journalist, the editor-in-chief of Istanbul-based Agos newspaper Hrant Dink's murder.
Protesters and human rights activists placed red carnations on the spot where Dink was gunned down in daylight by a teenage gunman in Istanbul, outside of his minority Agos newspaper.
Many carried black banners that read "We are all Hrant, we are all Armenian" and "We want justice", as they did in the previous eleven commemorations, Ahval says.
Filiz Ali, daughter of slain writer Sabahattin Ali, made a commemoration speech at the ceremony.
"In 1948, on a snowy morning, my father Sabahattin Ali, took his way to Istanbul from Ankara after he shot a few photos of my mother and me. And he never came back. The killer, who said he murdered my father due to 'nationalist feelings', was not different from the man who posed with a Turkish flag after killing you," Filiz Ali said.
"Dear Hrant, despite all difficulties, we are not hopeless. There are still people who do not remain silent. We are not going anywhere, and we are not giving up...These lands, this country is ours!" Ali concluded.