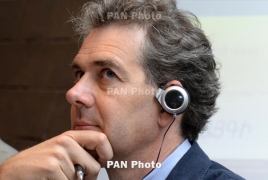 February 1, 2019 - 13:29 AMT
PanARMENIAN.Net - Azerbaijani authorities want to give Armenian Prime Minister Nikol Pashinyan some space to come up with some compromises on the Nagorno Karabakh conflict, British journalist and writer on the Caucasus Thomas de Waal said in an interview with OC Media.
De Waal says a modest improvement has been improved in the peace process.
"Certainly it has been a much better year. I'm told that in 2018 the number of soldiers who died on the Line of Contact was 14, which was the lowest number for about ten years, and considering recent levels of violence in 2015 and 2016 in particular, this is welcome. You know, 14 people still died but it was welcome progress. The hotlines, some meetings between the foreign ministers, and a bit of de-escalation of rhetoric — this is obviously positive, but we have to be honest and say: we are starting from very very low base where two countries are almost on the brink of war, with completely mutually exclusive demands of one another," he said.
"What's happening is that the Azerbaijani authorities want to give Pashinyan some space — they think that he's a democratic leader — to come up with some compromises from the Yerevan side, so they're behaving quite sensibly."
According to the expert, the basis for an agreement "has to be some kind of land for peace in which the Armenian side starts by giving up some of the seven regions outside Karabakh that it controls."
De Waal says this has to happen but the Azerbaijani side is very over-optimistic about how possible this is.
"It's very difficult for an Armenian leader to give these places up that have been occupied for more than 20 years," he maintains.
"We can expect maybe a bit of more of an opening up of debate in Armenia, talking about the cost of conflict, about the need for peace. This is possible but this is a long-term thing.
"We're talking about, first of all years of war, then the years of rhetorical war, and then a small war again in 2016, so we're talking about a very very difficult stone to move. A few small initiatives won't move this stone, we need to see much much more. I mean, just look at some of these other conflicts which are much further along, like Transdniestria or [Northern] Cyprus, where there's much more progress and thousands of people go back and forth and there's no threat of violence, and yet still, they can't reach agreement on fundamental issues."
De Waal said earlier that the mood has changed in the process of the settlement of the conflict, when the co-chairs of the OSCE Minsk Group issued a statement following a meeting with Armenian and Azerbaijani foreign policy chiefs. The mediators revealed then that the Ministers have agreed upon the necessity of taking concrete measures to prepare the populations for peace. They also said that a possible summit between the leaders of Azerbaijan and Armenia would give a strong impulse to the dynamic of negotiations.