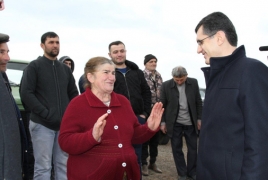 February 8, 2019 - 11:33 AMT
PanARMENIAN.Net - The village of Dovegh in Armenia's Tavush province has a 15 km long international border on the east. Despite the need for a full outdoor illumination system the village has been compelled to get along with only temporary solutions for years. The problem has been partially solved owing to support that came from various sources, which in the long-run, however, could not keep the village from the necessity of spending additional funds on replacing the frequently damaged bulbs.
FPWC and VivaCell-MTS undertook the solution of the problem in 2017, and installed a brand new energy saving outdoor lighting infrastructure in two stages.
In the frame of the implemented program, the partner organizations, which prioritize community development, 131 LED lights have been installed encompassing around 4800 m long area, which includes almost all the village area.
The opening ceremony was attended by VivaCell-MTS General Manager Ralph Yirikian, FPWC senior engineer, program coordinator Martin Maralchyan, as well as the head and the residents of Noyemberyan community.
"There are settlements, where outdoor lighting program solves problems more important than the problem of providing minimum living conditions. Borderland Dovegh is one of those villages. As a rule, we emphasize our willingness to ease the financial burden of the village communities and to help keep wild animals away from the populated areas in the nighttime, with this program. In borderland villages, though, we also help in safeguarding against the adversary's activities. People on the borderlands are the back we lean on. They should feel that we are there for them, too. People in this village do not need to feel alone facing their problems; they should always feel that they are in the focus of our attention. This is the approach we are guided by," Yirikian said.
Environmentally friendly energy saving LED-lights are economically efficient for rural communities with scarce budgets. Implementation of this system drastically cuts the energy consumption and eases the financial burden of the communities owing to the savings.
As compared to other types of bulbs the LED bulbs are more efficient and have longer life span, consuming up to 80% less energy.
The streets in Dovegh will be illuminated from 21:00 till 01:00 in summer, and from 18:00 till 24:00 in winter. During holidays, illumination will be provided all night long.