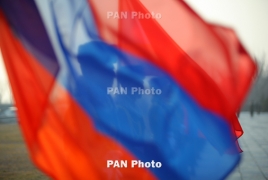 February 18, 2019 - 15:55 AMT
PanARMENIAN.Net - Liz Chater, a family history researcher based in the UK, has been working on the Armenian communities in South Asia since 2000. Currently, she is working with the Armenian Church of the Holy Resurrection in Armanitola on the Bangladesh Armenian Heritage Project, which aims to "build the stories, starting from the ground up" of the Armenian communities of Bangladesh and India. In an interview over email with Moyukh Mahtab, she talks of her own heritage, which led her to her research interest, and of her past and present projects.
"My interest in Armenian genealogy in Asia began because of my own family history in India and Dacca [Dhaka]. Like a lot of people here in the UK I was curious about my family's past but actually knew very little about my own family name. My father didn't speak much about his life as a child in India and of course when he passed away it was too late for questions. His brother had been killed in the Second World War at 17 years of age. Their father had also died in the 1940s and I was very young when their mother died, so there simply was no one that I knew of who could tell me about the India connection. My mother gave me a little information and armed with that I travelled to the British Library in London to see what I could discover. I soon realised that there were many people with the name Chater in India and I decided that it would be useful to try and record everyone in the archives with my surname, to try and build a bigger picture. It wasn't long before I found references to my Chater line in Calcutta and Dacca, and that was the spring-board for the journey of a lifetime," she said in an interview with The Daily Star.
"Naturally my research led on to a wider collection of Armenian names. It dawned on me that there was very little information available at the time (around the year 2000) online that was Armenian related. Instinctively, I wanted to try and bring the Armenian family presence in India into a more accessible place to help others who may also be looking for their own Armenian connections in India. I created my website (www.chater-genealogy.com), and started putting general Armenian family history related information on it. Of course when you are researching, you are constantly working backwards and it wasn't long before my enquiries had taken me from the early 20th century, back to the 19th and even earlier to the late-18th centuries and beyond. The further back I went the more engrossed in Armenian family history I became and invariably an answer to a query often created more questions. I began to develop a much deeper interest—a passion for Armenian family history in Asia. I quickly recognised it as one of the less popular aspects of genealogy in India. With only a handful of people who had undertaken research on Armenians and their families in India, it made me even more determined to get involved at roots level. Helping people realise their own personal history, particularly if it contains an Armenian connection, is very important to me."