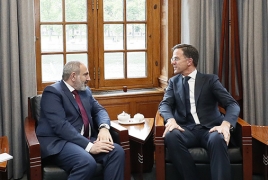 May 12, 2022 - 11:21 AMT
PanARMENIAN.Net - Dutch Prime Minister Mark Rutte believes that is so important that Armenia and Azerbaijan have begun negotiations to reach an agreement on Nagorno-Karabakh in the near future.
Rutte said at a meeting with Armenian Prime Minister Nikol Pashinyan that the Netherlands supports the work of the Minsk Group co-chairmanship.
"It is a very difficult dialogue after so much grief. Mr. Pashinyan made very clear about that in the parliament. I expressed my respect for that, the efforts of the Armenian government in that regard, we wholeheartedly welcome and we will continue to welcome," Rutte said, according to a statement from Pashinyan's office.
The Armenian Prime Minister thanked Rutte for his positions regarding the settlement of the Nagorno-Karabakh conflict, and for his support for the peace agenda adopted by the Government of Armenia.
"I must say that yes, we received a mandate from our people to adopt and implement the peace agenda at last year's early parliamentary elections, which I am pleased to say was unequivocally assessed by the international community as free, in line with democratic standards," he added.
During the meeting, the two also emphasized the development and expansion of economic relations between the two countries, the implementation of relevant measures to expand business ties. They expressed confidence that there is a great potential for economic cooperation between Armenia and the Netherlands, the realization of which will contribute to the increase of trade turnover.