Marketing experts, Khachatyan Art Collection project initiator Tatev Tatoyan and artist Abgar Khachatryan talked with PAN about the urgent issues of the art market and possible ways out of the crisis.
What's going on at the art market today? Is there any progress?
Tatev Tatoyan: The situation is really deplorable. There are a lot of talented artists live a life of poverty in their own world, because they do not know how to present themselves and their works. They are not aware of market tools. Actually, they shouldn't, as a person, who is searching for creative solutions, would find much difficulty dealing with financial issues. There must be a mediator between the art and business, who could care for the 'material part'. Business should help promote art but not vice versa.
The state of affairs at the art market has not changed for decades, despite interest of some private parties who try to make things moving. My art project is one of such initiatives, aiming to help artists find their audience.
Abgar Khachatryan: Participation in various international modern art fairs can help our artists become known. However, lack of financing is the main obstacle on this path. Unlike art-expos, ordinary exhibitions provide a small room for exploration of talents.
In the U.S., for example, there are many galleries for various genres, where visitors have a chance to talk to the artists and discuss their works. They can also buy a painting they liked. Thus, a dialogue between the painters and potential buyers is created and, as a result, the artists gain popularity. The market fully operates, although there is a risk 'to drown' the art in business.
Tatev Tatoyan: This is a key issue. If the objective of art worker is getting money, it will kill the real art. To keep the balance, serving the art and creation of its economic value should be parallel but never mixed. A piece of art should not be a business tool, however, business can help establish links with the public. I wish the government could support artists for them to have their own platform and to showcase their works at the international level without extra expenses, because our art must become a landmark of our country.
Abgar Khachatryan: I should add that our Vernissage was an interesting platform, where artists could communicate with the purchasers. Not long ago it was repaired and now it's open not only at weekends but on working days as well. This innovation is rather insidious. Before, the painters could work and create for five days and they bring their works to the Vernissage for sale. Now, if he doesn't appear every day, his place will be occupied by second-hand dealers, who buy paintings at low prices. As a result, the artists will not sell their best works or will just stop drawing worthy paintings for the Vernissage. This is the way market malfunction kills the art, with the buyers losing trust and artists losing inspiration.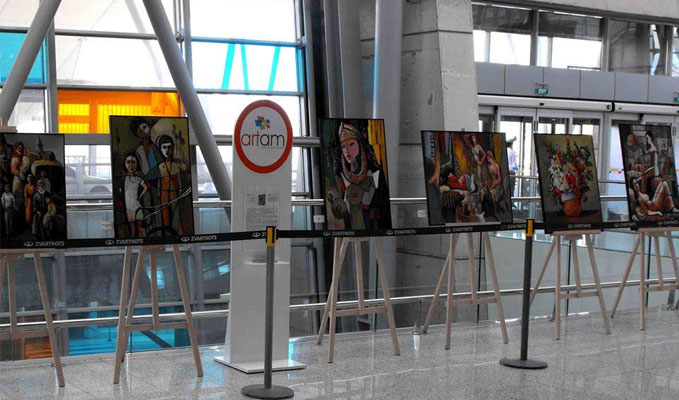 Tatev, projects like yours give some hope for revival of the art market. What's your vision for the future?
Tatev Tatoyan: My project is just in progress. It main concept is the correct presentation of the 'material' we have. Instead of organizing exhibitions and turning on a standby mode, I would like to create a platform affordable for the artists, using modern technologies – internet and social networks, thus helping the art object find its buyer.
Abgar Khachatryan: I want to tell about one more worthy project, an exhibition that opened at Zvartnots airport not long ago. The idea is innovative and very attractive both for artists and tourists. Thanks to it, the guests of our country got an opportunity to get acquainted with the Armenian art. It's a promising phenomenon for our art market development.