On creation of All Armenian Orchestra
There are many fields to be developed: from cultural heritage to modern museums, art, theater and opera, all these demanding great efforts. To find the best solutions, we must act quickly and correct mistakes made before. I am convinced that culture can unite our people scattered across the globe after the Genocide. Thus, the idea to create All Armenian Orchestra was born.
The first performance by the orchestra took place on April 24, 2017, featuring works by Armenian composers, including Tigran Mansuryan's new symphony dedicated to the heroes of 2016 April war.
I know all members of the orchestra, young and old. Violin player Diana is only 15, but there are also 50- and 60-year old musicians. The geography of the orchestra is very large, embracing Armenia, U.S, as well as European and Asian countries. To show the unity of the Armenian nation, the orchestra is guided by Karen Durgarian, Eduard Topchyan, Sergey Smbatyan and Constantine Orbelian.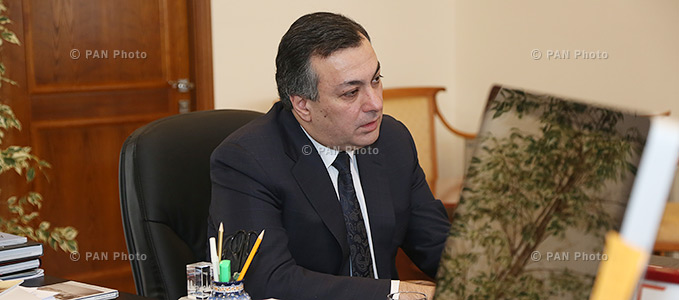 On importance of Western Armenian culture
We are planning to stage theater performances in the Western Armenian language. Besides, works by Western Armenian authors will be translated into Russian and English. It's important to present our rich culture to the world. Initially, two theaters were chosen to promote the idea - Gabriel Sundukyan National Academic Theater and Hakob Paronyan State Musical Comedy Theater. However, we are going to cooperate with other theaters in future. On competitive film industry
We are currently developing a strategy that will help creation of competitive movies in Armenia and appreciation for this art. A bill on cinematography has been already submitted to the government. Among other provisions, it envisages a 20% cashback of film production funds. This will contribute to encouragement of foreign investments. Armenia can become an attractive country for producers, if proper work is done.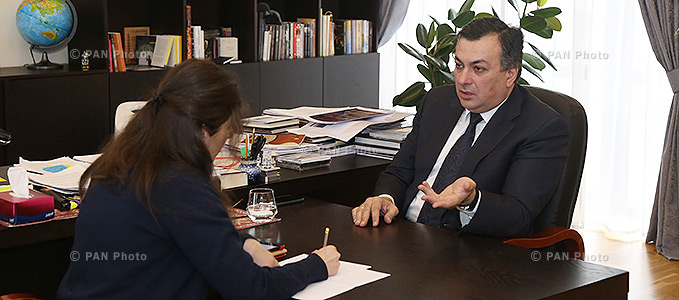 The Armenian Ministry of Culture allocates AMD 3 million annually for film production. Currently, two types of movies are being shot – one for the local audience and the other for the introduction at festivals. I think these two should be combined in the course of time. For example, if we shoot a patriotic film about Artsakh that highlights human values, it will also be interesting for the international audience. For this purpose, we invited U.S.-based producer Arsen Baghdasaian who is working out the essential mechanisms in Yerevan. Creating in European, African and Asian states, Baghdasaian agreed to serve Armenia for a year. Our country lacks competitive movies because of the lack of relative tools. And I do hope that this gap will be filled in.
On books
Book publishing has been in the focus since I assumed the post of Culture Minister. I have visited all book stores and libraries to get acquainted with their work style. I we take the right track, there will be more readers in Armenia. I am sure you heard about the bookmobile, which offers book with a 30% discount. It currently tours Yerevan only, but thanks to the agreements signed with the Chinese embassy on March 2, the books will be available in provinces too. We will be provided with 4 mobile movie theaters with about 200 films to show. Besides, books will be given free of charge to villagers, who will then hand them over to the neighboring settlement. A mobile library and movie theater is something new we can do for rural areas. The Minister of Culture has 9 provincial libraries. There are also some administered by the local authorities. That's why mobile libraries can be a solution.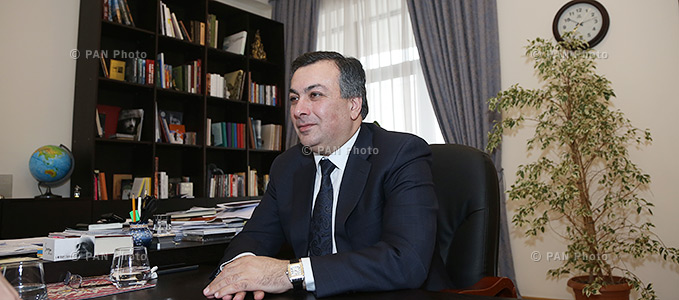 Armenia lacks modern book stores, where people could buy a book and spend time. Thanks to an AMD 100 million investment by Zangak publishing house, a shop of the kind will open in Abovyan Street. It will have a large reading room, with books and magazines. Besides, we are planning book-shaped installation, where movie and theater tickets, and, of course, books will be sold.
We have changed our attitude towards books. Before, a special committee decided on financing of a book publication. Now, instead of allocating funds for publication, we will buy the books that have already been published and make copies. The decision was taken because we can't decide which book is better.
On young authors and TV
To make a book more popular, it is supposed to be presented during a TV show, where 4 publishers and 20 authors choose 5 works to be published. Thus, writers will have a possibility to present their books to potential readers before publication. There are many talented young authors. I don't want to give names, but we will try to make them popular through creation of different platforms and TV shows.
As for magazines, I can say that they are not advertised properly. We are going to form a group of critics and linguists to review various literary works and cultural events. If our beginnings are successful, we will make Armenia a dream country.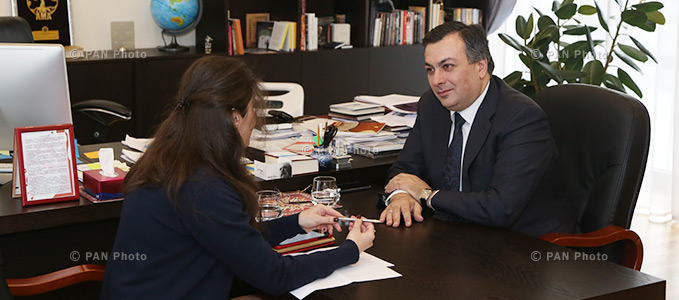 On modernization of museums
Famous Armenian-Turkish photojournalist Ara Guler gifted Armenia some works that will form the basis of the future Photography Museum. The project includes a number of organizations to make it unbiased.
Besides, an underwater museum of social realism will open at the depth of 3 meters in Lake Sevan. It will feature soviet era monuments which are now hidden in archives. It will be the first museum of the kind in Armenia, where a rock festival will be held in summer.
We do hope that the correct presentation of cultural events will arouse people's interest.
A special audio-visual 10-language application for the visitors of the museums of Hovhannes Tumanyan, Sergey Parajanov, Martiros Saryan and Aram Khachaturian will provide new opportunities. We must use modern technologies if we want to increase museum attendance. For example, if the visitors like making selfies, museums should have special spots for it.
On commercial events on historical ruins
I am not afraid to say that I don't mind conduction of different festive events in Armenian historical centers. But these events should be organized at the highest level not to cause people's indignation. Such use of cultural monuments is practiced by many countries. I can't judge about how events of the kind were organized in the past, but I would like to raise awareness about Armenia's historical sights. For instance, the territory of Zvartnots temple will become a place that can host concerts and other cultural events. It is now not frequently visited, as most tourists prefer going to Etchmiadzin. On the way back, they are already tired and hungry. We must take all facts into account to offer well-thought tours. For this purpose, a group of young architects and designers are currently working on the project.