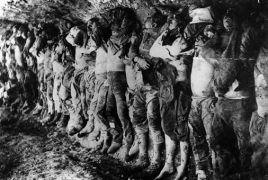 April 25, 2015 - 09:31 AMT
PanARMENIAN.Net - On April 26, hundreds will gather in Washington, D.C. for the first annual family friendly Walk to End Genocide hosted by Darfur Interfaith Network (DIN) and Jewish World Watch (JWW). The walk will be part of the largest annual anti-genocide rallies held in the United States during the Genocide Awareness month of April, the Armenian Weekly reports.
A wide-ranging, multi-faith coalition of policymakers, religious leaders, schools, and activists will join for a month of action and walking together to highlight the power of local communities to fight genocides and mass atrocities around the world. The April 26 event in Washington, D.C., will remember and honor Holocaust and genocide survivors and victims, raise funds for anti-genocide educational and advocacy efforts in the U.S., and support on-the ground projects that aid refugees and survivors of the conflicts in Sudan, South Sudan, and Congo.
This year's walk coincides with the 100th anniversary of the Armenian Genocide and the 70th anniversary of the liberation of Auschwitz. Both tragedies will be commemorated during walks across the country, including in Los Angeles; Sioux City, Iowa; East Meadow, N.Y.; Santa Rosa, Calif.; and Conejo Valley, Calif.
"In commemorating the 100th anniversary of the Armenian Genocide and the 70th anniversary of the liberation of Auschwitz, we must confront the sad truth that too many in the international community continue to stand idly by as genocides and mass atrocities plague our planet," said Janice Kamenir-Reznik, the co-founder and president of Jewish World Watch. "These walks provides an important opportunity for people of conscience across the United States from different backgrounds and faiths to join with our elected leaders—and turn the words 'Never Again' into action."