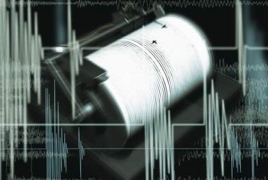 April 25, 2015 - 11:33 AMT
PanARMENIAN.Net - A powerful earthquake struck Nepal and sent tremors through northern India on Saturday, killing hundreds of people, toppling a 19th-century tower in the capital Kathmandu and triggering avalanches on Mount Everest, Reuters reports
There were reports of devastation in outlying areas of the Himalayan country after the quake struck with a magnitude of 7.9, its epicenter 50 miles (80 km) east of Nepal's second largest city, Pokhara.
The worst quake to hit the impoverished Himalayan nation in 81 years also caused damage in neighboring Indian states and Bangladesh. The quake was shallow, intensifying the amount of energy released over a relatively small area.
A police spokesman said the death toll had reached 449 in Nepal according to an initial estimate, most from the Kathmandu Valley. There was little information coming from the outlying areas of the mountainous country and helicopters were circling overheard to get a better sense of the damage.
"Hundreds of people are feared dead and there are reports of widespread damage to property. The devastation is not confined to some areas of Nepal. Almost the entire country has been hit," said Krishna Prasad Dhakal, deputy chief of mission at Nepal's Embassy in New Delhi.
"We are totally cut off from most parts of our country," said Ram Narayan Pandey of the Nepal Disaster Management Authority, who was coordinating relief efforts from Kathmandu.
A 1934 quake of magnitude 8.3 in Nepal killed over 8,500 people.
The death toll in northern India rose to at least 12, with six killed in house collapses in Uttar Pradesh and six more dying in Bihar further east, according to government officials.