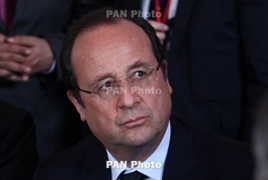 April 25, 2015 - 16:03 AMT
PanARMENIAN.Net - Ankara continues lashing out at world leaders' statements on the Armenian Genocide. Ankara slammed French President Francois Hollande for its visit to Yerevan where he attended the Genocide commemoration events and issued a statement.
"French President participated, as he had announced long time ago, at the ceremony held in Yerevan on 24 April, 2015, which instead of being a commemoration for the losses incurred in the past, turned out to be an occasion to slander Turkish identity, history and society," the Turkey's Foreign Ministry said in a statement, according to Anadolu Agency.
Russian President Putin also attended the events in the Armenian capital, which heard Hollande urge Turkey to end its refusal to recognize the Genocide.
"It would have been expected from President Hollande that during these ceremonies he would acknowledge that, regardless of religion or ethnicity, all Ottoman citizens endured tragic sufferings during the process of the collapse of the Ottoman Empire," the statement added.
"Such an approach, which does not discriminate between the sufferings of those who belong to different religions, would have undoubtedly been seen as a positive and embracing attitude by the 600,000 Turks living in France."
France "unfortunately preferred to continue its discriminatory approach and Turkey unequivocally rejects and condemns France's unjust and partial attitude," the statement said.