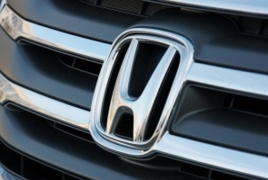 April 28, 2015 - 13:44 AMT
PanARMENIAN.Net - Honda's profit for the fiscal fourth quarter dropped 43 percent as the costs of air bag recalls offset the positives of a weak yen and strong vehicle sales in Asia, according to the Associated Press.
Honda Motor Co. reported Tuesday, April 28, a profit of 97.8 billion yen ($897 million) for January-March, down from 170.5 billion yen a year earlier.
The Japanese automaker has been the hardest hit by a recall of air bags manufactured by Takata Corp. of Japan, which supplied air bags for a wide range of Honda models.
In the defect, the air bag inflators can explode with too much force. At least six people have died worldwide due to the problem.
The maker of the Accord sedan, Odyssey minivan and Asimo robot also suffered other quality lapses, recalling its hybrid models several times last year. Executives have taken pay cuts and President Takanobu Ito has announced his resignation to take responsibility for the embarrassing problems.
The problems have tarnished Honda's reputation for quality, dampened sales and slowed down model development.
Quarterly sales rose 8 percent to 3.35 trillion yen ($28 million).
The weak yen helped to limit the fall in Honda's profit as it adds to the value of overseas sales of Japanese exporters.
Honda, which also makes motorcycles, business jets and lawn mowers, expects profit for the fiscal year through March 2016 to be little different from the year just ended March 2015. It's projecting a profit of 525 billion yen ($4.41 billion), according to the AP.
It reported profit of 523 billion yen ($4.39 billion) for the fiscal year just ended, down 8.9 percent from the previous fiscal year.
The recall costs and a decline in auto sales in Japan helped drag profits down, according to Honda.
Toyota Motor Corp., the world's biggest automaker in vehicle sales, reports earnings May 8. Nissan Motor Co., allied with Renault SA of France, reports results May 13.