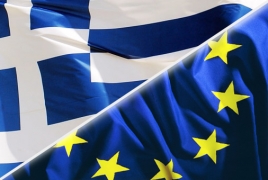 April 29, 2015 - 14:25 AMT
PanARMENIAN.Net - The head of the Eurogroup said on Tuesday, April 28, that a recent shakeup of Greek Prime Minister Alexis Tsipras' negotiating team would not by itself resolve the impasse between Greece and its creditors, and Athens would need new loans to stay afloat, according to Reuters.
"Without further loans, Greece won't make it, that's the reality," said Jeroen Dijsselbloem, the Dutchman who heads the group of finance ministers of countries that use the euro.
Dijsselbloem said in a television interview it may be of some help that the Greeks have appointed a single contact person for negotiations, with Greek Finance Minister Yanis Varoufakis apparently sidelined.
But he said there had been little progress in negotiations over the past two months, and signaled he did not think a Greek referendum on a deal with creditors would be a good idea. Tsipras has said he may submit an eventual deal to the Greek people for approval if its terms are contrary to the platform he campaigned on.
"It would cost money, it would create great political uncertainty, and I don't think we have the time," Dijsselbloem said. "And I don't think the Greeks have the time for it."
The Dutchman, according to Reuters, said it should not have come as a surprise to Greece's government that the European Central Bank has not relaxed limits on how much Greek government debt its banks may use as collateral.
"The Greek government gambled that if it negotiated with us the ECB would open its cashier windows, relax its rules," Dijsselbloem said.
But "there will be no easy access to the ECB's windows until there's a solid agreement with the Eurogroup," he told RTL Nieuws. "That's been made clear to them time and time again."