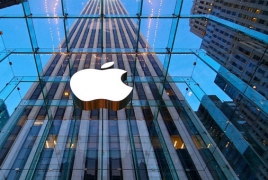 May 23, 2015 - 16:46 AMT
PanARMENIAN.Net - Apple, Google and Vodafone reportedly attended highly confidential meetings with spy chiefs from seven countries last week to discuss the aftermath of Edward Snowden's leaks.
As Digital Spy reports citing The Intercept, executives from the firms debated privacy and security with the likes of the CIA, GCHQ and other spy agency chiefs of past and present from Australia, Canada, France, Germany and Sweden.
The group attended the three-day conference organised by the Ditchley Foundation in an 18th-century mansion in Oxfordshire, where questions where raised about mass surveillance and intelligence operations, brought on by Snowden's whistleblowing activities since the summer of 2013.
Investigative reporter Duncan Campbell - who was among a select number of press invites to the conference - said: "Perhaps to many participants' surprise, there was general agreement across broad divides of opinion that Snowden - love him or hate him - had changed the landscape; and that change towards transparency, or at least 'translucency' and providing more information about intelligence activities affecting privacy, was both overdue and necessary."
A programme for the event revealed the types of questions that were posed, such as 'Are we being misled by the term mass surveillance?' and 'Who should authorise intrusive intelligence operations such as interception?'.
Snowden recently conducted an interview on Last Week Tonight with John Oliver, where he talked about his decision to disclose files containing classified information on surveillance programmes.
"I do understand what I turned over," the ex-CIA employee insisted. "There's a difference between understanding what's in the documents and reading what's in the documents."