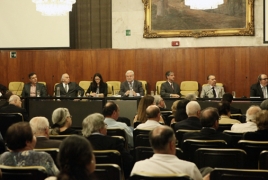 May 29, 2015 - 15:27 AMT
PanARMENIAN.Net - The Municipality of Sao Paulo held earlier this week a meeting on the Armenian Genocide on an initiative by Councilor Gilberto Natalini and the Armenian National Committee of South America, Prensa Armenia reported.
The ceremony was attended by Councilor Natalini, representative of the Armenian National Committee of Brazil Kervok Zadikian, Vice President of Armenia Fund Garabed Pilavdjian, representative of the Armenian National Committee of Argentina Bartolome Ketchian, former Deputy State Carlos Kherlakian, vice president of SAMA Armenian Club Garabed Sapadjian, President of the Armenian Cultural Association of Sao Paulo James Onnig Tamdjian and the Consul of Uruguay Flavia Patricia Pisano Reggio. The General Consul of Israel and the Consul of Canada also attended the event.
Tamdjian highlighted just cause of recognition of the Armenian Genocide, while Ketchian recalled the speech by Pope Francis in April and stressed the importance of this recognition.
"Brazil has a long tradition of coexistence with the peoples of different nationalities. It adheres to the principle of dialogue for resolution of conflicts. What we are doing here on behalf of the city of Sao Paulo, is to pay tribute to the Armenian people. Not only to revive a sad moment, but also to set an example for the present and the future, how important it is for people to live together in harmony and peace," Councilor Natalini said.
In addition, he presented a petition to the Supreme Court, the Federal House of Representatives, the Senate and the President of Brazil, Dilma Rousseff, calling for recognition of the Armenian Genocide.
Over 60,000 Armenians live in Sao Paulo, a city of 11 million.