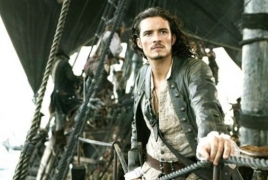 August 17, 2015 - 18:13 AMT
PanARMENIAN.Net - "Pirates of the Caribbean: Dead Men Tell No Tales" just got the right amount of leverage. Orlando Bloom will officially reprise his role as Will Turner in the upcoming "Pirates" installment, Disney announced at its D23 Expo over the weekend, according to The Huffington Post.
The crowd at the expo reportedly burst into cheers after hearing the news, though an appearance by Johnny Depp on stage as Captain Jack Sparrow probably also helped their enthusiasm.
Adding to the excitement, Disney released the official title card for the film along with an opening date.
Original cast member Geoffrey Rush is also reportedly set to return as Captain Barbossa in the film, but there's no word yet on if Keira Knightley will reprise her role as Elizabeth Swann. The last we heard, it wasn't looking good, but listen to me. Listen! Even if the worst should happen, and Knightley doesn't make an appearance, at least we still have her epic speech from "Pirates Of The Caribbean: At World's End."