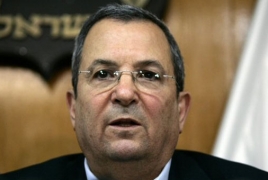 August 22, 2015 - 09:22 AMT
PanARMENIAN.Net - A former Israeli Defense Minister, Ehud Barak, revealed new details to his biographers about how close Israel came to striking Iran's military facilities in 2010, 2011 and 2012 and why it did not despite his and Prime Minister Benjamin Netanyahu's desire to do so, according to interview excerpts aired on Israeli television Friday, Aug 21 night, the New York Times reports.
Barak, who also previously served as Israel's Prime Minister, said that he and Netanyahu were ready to attack Iran each year but that in 2010, the military chief of staff said Israel lacked the "operational capability"; in 2011, two key ministers waffled at the last minute; and in 2012, the timing did not work out because of a joint United States-Israel military exercise and visit by the American defense secretary.
He noted that the two ministers who balked in 2011, Moshe Yaalon and Yuval Steinitz, "are the most militant about attacking Iran" today.
The interview excerpts were aired by Israel's Channel 2, which stressed that Barak had sought to prevent them from being broadcast, but that they had been approved by Israel's military censor.
According to the NYT, reached late Friday by telephone, Barak confirmed that the recordings were authentic but said he had provided the information on background to the authors, Ilan Kfir and Danny Dor, whose book, "Barak: The Wars of My Life," came out this week in Hebrew.
"It was not supposed to be published," Barak said. "I don't want to comment on it. I tried to convince them not to broadcast it. But it's true, it's my voice. I don't deny my voice, it can be recognized."
In the interviews broadcast Friday, Barak said "we'd planned to do it" that year. He recalled "demanding" of Leon E. Panetta, then the secretary of defense, to postpone the joint military exercise, and succeeding, but still being unable to find the right moment.
"You ask, you demand that America respect your sovereignty to make a decision that you want to do that, even if America is opposed to that and it is against its interests," Barak said. "So you can't, you yourself, in the opposite direction, try to force America — precisely when it is here carrying out an exercise that's been scheduled in advance. That's how it got tied up in 2012."