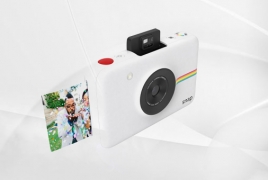 September 4, 2015 - 17:28 AMT
PanARMENIAN.Net - The Snap, Ammunition's third design for Polaroid, after last year's Cube action camera and Zip instant mobile printer, is a decidedly modern instant camera. Unlike its predecessors, it doesn't use ink cartridges. Instead, it uses inkless printing tech developed by a company called Zink. Heat from the printer reacts with dye crystals embedded in the photo paper to create the image, Wired reports.
The Snap is a point-and-shoot that does not allow the level of editing that even a basic tool like Instagram does. There is no image customization beyond a button for color, black-and-white, or sepia filters. But, unlike other instant cameras, this one is small enough to fit in your pocket, just like your phone. You cannot fetishize its chunky '70s-era body and pop-up vintage flash bulb, because it doesn't have them.
Such one-step functionality, the kind that fits in the palm of your hand, is by design. "Those are the kind of things we are interested in, that go against the grain to this Swiss Army knife approach to technology," a Silicon Valley gadget designer, Robert Brunner says. "It's its own thing." That "thing," is an accessible, dead-simple device that delivers the retro joy of immediate prints you can put on your refrigerator. Even the body of the camera speaks to that: the creators made the Snap as cartoonish as possible, right down to situating the flash in the center of the device, and not on the side.