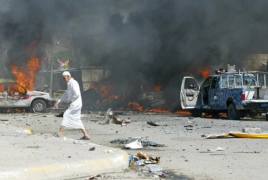 September 14, 2015 - 17:59 AMT
PanARMENIAN.Net - Two car bombs exploded in the eastern Syrian city of Hasaka on Monday, September 14 one killing at least 20 people, state television said, in attacks also reported by a monitoring group, Reuters reports.
The first blast hit Khashman area in the north of the city targeting Kurdish fighters there and killing six of them, the Britain-based Syrian Observatory for Human Rights said.
The second hit its center, killing at least 20 people, according to state television.
The Observatory said the second blast went off near a Syrian government forces headquarters.
It gave a lower initial toll of at least 10 people killed in both blasts, and dozens more injured.
Hasaka is mostly Kurdish-controlled, after advances in the area this year by Kurdish militia the People's Protection Units (YPG).
The city was divided into zones controlled by the Syrian government and the Kurds until an Islamic State attack in June. Overstretched government forces collapsed in the face of that attack, leaving the city's defense to the YPG, which now controls nearly all of Hasaka.
The YPG has mostly avoided conflict with Syrian government forces, focusing instead on repelling Islamic State.
The militia has seized wide areas of territory from Islamic State this year, backed by U.S.-led air strikes.