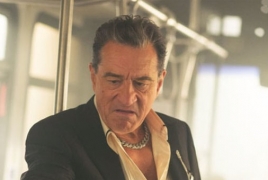 September 19, 2015 - 15:21 AMT
PanARMENIAN.Net - Lionsgate has released the first trailer for action thriller movie "Heist (2015)". The film stars Robert De Niro as a gangster pope who finds himself a target of a robbery committed by Vaughn (Jeffrey Dean Morgan) and Cox (Dave Bautista), AceShowbiz reports.
Making its way out via Yahoo! Movies, the two-minute video gives hints about the reason why those two baddies want to rob a casino owned by the pope. It turns out that Vaughn is someone who works for the pope in his casino. He wants to borrow some money because his daughter is sick, but pope refuses his request in an unlikely way.
Vaughn then teams up with Cox to steal three million dollars from the pope. Knowing that the car they use to perform the robbery is gone, they hijack city Bus 657 and take the passengers hostage. Gun war and high speed car chase are seen as police try to catch them.