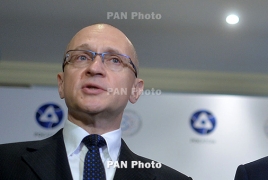 October 7, 2015 - 16:34 AMT
PanARMENIAN.Net - The work of Metsamor Nuclear Power Plant in Armenia would significantly reduce electricity price in the country, head of Rosatom Sergey Kiriyenko said Wednesday, October 7.
"NPP's operating unit provides 35- 37% of electricity: this is a matter of Armenia's energy security," Kiriyenko said. "Our calculations show that if Metsamor NPP stops working, energy tariff will be thrice as much as now."
"The NPP produces the cheapest electricity, enabling the Armenian government to significantly reduce the energy tariffs for households and businesses," Kiriyenko said, according to TASS.
The electricity tariff hike came into effect in Armenia on August 1. Earlier, Electric Networks of Armenia (ENA) filed an application to Public Services Regulatory Commission of Armenia (PSRC) regarding an increase in electricity tariffs, a hike that the parliamentary opposition and civil society considered as unfounded and serving the interests of ENA. Until August 1, 2015 the daytime and night tariffs for population stood at AMD 41.85 and 31.85 per KWh, respectively. The ENA proposed raising the tariffs to AMD 58 and 48 respectively. However, the Commission only partially granted the ENA application on a rise in tariffs. The power tariffs in Armenia have increased by AMD 6.93 instead of 17.
Prime Minister Hovik Abrahamyan declared that an audit of the Electric Networks of Armenia (ENA) was to start in late August. The PM said the government will express its position after Deloitte & Touche CIS presents its findings. The company will provide consulting services to Armenia's Public Services Regulatory Commission (PSRC) concerning the regulation of tariffs in energy sector.