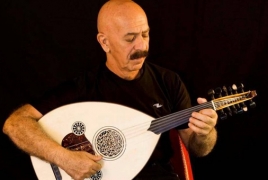 October 23, 2015 - 13:03 AMT
PanARMENIAN.Net - Douglas Kalajian, whose father was 3 when his mother was killed during the Armenian Genocide, will share stories about his family's experience, accompanied by performers Myriam Eli, Alique Mazmanian, Reza Filsoofi and Joe Keytoonian, Miami Herald reports.
When Kalajian was 8, a professor on TV started talking about the Armenian Genocide. His father broke down.
"I asked my mother, 'Why is daddy crying?' She said it was 'because the Turks killed his mother.' Until that moment, I had no idea. And from that moment, I wanted to know the rest of the story," Kalajian said.
He kept searching for answers, though, and documented his search in his novel, Stories My Father Never Finished Telling Me. Kalajian will read from his book during the event and will take questions from the audience.
Major facets of Armenian culture also were lost in the wake of the Genocide. In an effort to preserve this culture, Arts at St. Johns and Harmonic Motion will host an Armenian Commemorative Concert to observe the centennial of the Genocide. Keytoonian and his wife Eli were approached by Arts at St. Johns to put together the concert. Keytoonian will play the oud (a traditional Armenian instrument) and his wife will dance and play percussion instruments.
Keytoonian also was deeply impacted by the Genocide; both sides of his family were devastated. His grandfather was killed when his grandmother was eight months pregnant with his father. He decided to convey the loss his family felt through his music.
The performances will consist of songs, dances and narratives. The aim is to inform people who may not have even been alive during the genocide.
The concert is called Hye Doun, which means Armenian home. It is part of the Arts at St. Johns 2015-2016 season theme, "Places We Call Home," in Miami.