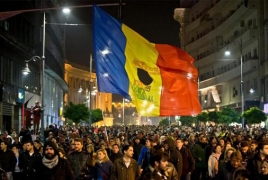 November 4, 2015 - 09:59 AMT
PanARMENIAN.Net - Thousands of people protested across Romania on Tuesday, November 3 demanding cabinet resignations as the death toll from a nightclub fire reached 32, with dozens more people in hospital critically hurt, Reuters reports.
Angry about the way authorities grant permits and inspect public venues, protesters were still pouring into the streets late into the night, carrying banners saying "Corruption Kills" and chanting "Murderers!" The disaster last weekend was one of the country's worst in decades.
In Bucharest, over 20,000 people marched to the government headquarters and the interior ministry, and protests spread out in the central Romanian cities of Brasov and Ploiesti. More rallies were being announced on Facebook across Romania in coming days.
The fire broke out on Friday night, when fireworks lit at a rock concert inside the Colectiv club set non-fireproofed insulation foam ablaze, triggering a stampede towards the single exit and trapping many of the roughly 400-strong audience inside.
In Bucharest, marchers shouted demands for Prime Minister Victor Ponta and deputy prime minister Gabriel Oprea to resign along with the mayor of the district where Colectiv is located.
After the Bucharest protest started, premier Ponta announced he had fired the head of the consumer protection agency for failed oversight over Colectiv.