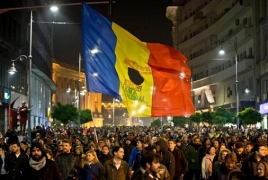 November 4, 2015 - 14:27 AMT
PanARMENIAN.Net - Romanian Prime Minister Victor Ponta announced the resignation of his government Wednesday, November 4 following huge protests in the wake of a nightclub fire that killed more than 30 people, the Associated Press reports.
"I'm handing in my mandate, I'm resigning, and implicitly my government too," Ponta said in a statement. He said he would stay on until a new government is in place.
"I am obliged to take note of the legitimate grievances which exist in society," said Ponta. "I hope handing in my and my government's mandate will satisfy the demands of protesters."
President Klaus Iohannis will name a prime minister to form a new government, which needs to be approved by Parliament. If this fails twice, early elections will be called. Romania is scheduled to hold parliamentary elections in December 2016.
Deputy leader of the opposition Liberal Party, Catalin Predoiu, hailed the resignations. "This is a victory of the street. It is a lesson for all politicians," he said.
Some 20,000 people took to the streets of Bucharest Tuesday evening in a spontaneous protest calling for the resignation of Ponta, Interior Minister Gabriel Oprea and a district mayor where the Colectiv nightclub was located.
They shouted "Shame on you!" and "Assassins!" and waved Romanian flags. Anger has been brewing for some time in Romania against the government, which many perceive as being corrupt, and Friday's fire has added to the discontent.