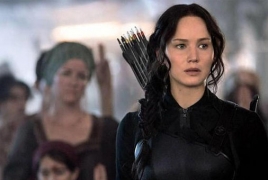 November 30, 2015 - 11:09 AMT
PanARMENIAN.Net - "The Hunger Games: Mockingjay, Part 2" topped this weekend's box office, defeating three newcomers with an estimated $75.8 million. The action sci-fi movie earned $62 million internationally over Thanksgiving weekend for a global total of $440.7 million, AceShowbiz reports.
In the second place was newcomer "The Good Dinosaur", which launched to an estimated $39.2 million over three days and around $55.6 million for the five days. The animated comedy nabbed the fourth best Thanksgiving opening of all time, though it was considered lackluster for a Pixar movie. Costing between $175 million and $200 million to produce, "The Good Dinosaur" is the first Pixar movie ever not to open in the first place.
"With this start, buoyed by great critical and consumer response, we're in a fantastic place to play throughout Christmas," said Disney distribution president Dave Hollis.
The "Rocky" reboot, "Creed", came beyond expectation, opening to approximately $42.6 million from 3,284 theaters. The boxing movie earned rave reviews along with A CinemaScore. "It played very broadly, which is what we need for long legs," said Jeff Goldstein, Warners executive vp domestic distribution. "Ryan Coogler just brought out the best in these actors. Everyone loves an underdog story."
Meanwhile, the third newcomer, Paul McGuigan's "Victor Frankenstein", couldn't even crack the top 10. Starring James McAvoy and Daniel Radcliffe, the sci-fi movie earned approximately $3.4 million from 2,797 theaters and got a C CinemaScore.
Rounding out the top five were "Spectre" and the "Peanuts" movie. The James Bond movie added another $12.8 million in its fourth weekend while the Charlie Brown movie garnered around $9.7 million in its fourth weekend.
"The Hunger Games: Mockingjay, Part 2" - $51.6 million "The Good Dinosaur" - $39.2 million "Creed" - $30.1 million "Spectre" - $12.8 million The "Peanuts" Movie - $9.7 million "The Night Before" - $8.2 million "Secret in Their Eyes" - $4.5 million "Spotlight" - $4.5 million "Brooklyn" - $3.8 million "The Martian" - $3.3 million