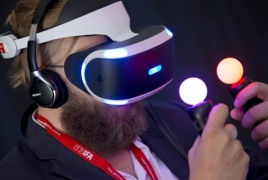 December 7, 2015 - 10:46 AMT
PanARMENIAN.Net - Sony's Richard Marks showed off the PlayStation VR system at the PlayStation Experience fan event in San Francisco, VentureBeat reports.
Debuting next spring, the PlayStation VR is Sony's entry in the hot field of virtual reality, which is expected to be a $30 billion business by 2020.
Marks' two-person demo didn't work as planned. His own motion-detecting Move controllers failed. He couldn't throw discs at his fellow VR partner in a virtual room. The other player could throw discs at Marks, but it was clear that the controls weren't that precise. It took quite a long time before he was able to throw accurately.
But the demo did show that two people could occupy the same virtual space and throw discs at each other. Most demos of VR games have been single-player experiences.
"I hope this demo gives you a taste of what PlayStation VR is about," Marks said.
Sony is launching the PlayStation VR early next year. It will compete with the Oculus Rift coming from Facebook's Oculus VR division and the HTC Vive for the PC, based on Steam VR technology from Vive.
Microsoft has an alliance with Oculus VR on a game controller, but it doesn't have a VR entry yet of its own. It is, however, working on augmented-reality glasses, dubbed HoloLens.