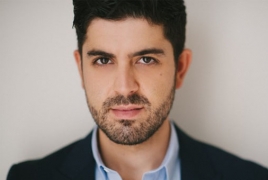 December 7, 2015 - 22:36 AMT
PanARMENIAN.Net - "Rock The Kasbah" star Beejan Land (@BeejanLand) is set to topline "Inertia," a thriller penned and to be directed by Campbell Maynes, Variety reports.
The Australian-born actor, who attended the Marrakech Film Festival to present "Rock the Kasbah" along with Bill Murray, will play in "Inertia" a war veteran suffering from post-traumatic stress disorder who starts investigating the mysterious death of his father. Land said the movie will be a psychological thriller. Lambert Road Films is on board to produce.
Lensing is expected to start early next year and Land is currently training for the part. Land, who is fluent in many languages including French, graduated from Ecole Jacques Lecoq School of Mime, Movement and Theater in Paris and the Australian Theatre for Young People and NIDA, among other schools. Land has had a large body of work in theater, notably with Le Theatre du Soleil on the play "Les Naufrages du Fol Espoir" and also Sydney and Melbourne Theatre Companies.
"Intertia" will mark Maynes' feature directorial debut. He previously directed three shorts: "When The Tides Turn," "San Gabriel" and, most recently, "I Hate You, Andrew."
Land has also set up a production banner in Los Angeles to produce a thriller based on the life of Frederic Bourdin, the French serial conman nicknamed The Chameleon. The actor approached Bourdin via twitter and obtained life rights to his biography. The untitled project, whose plot details are still under wraps, will delve into the psyche of Bourdin through three chapters of his life, said Land, adding that the film will portray Bourdin from an "authentic, humanistic perspective." Land is represented by Jonah Klein at Atelier Management in Australia and Patti C. Felker and Chris Abramson at Felker Toczek Suddleson Abramson Attorneys.