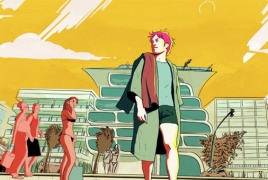 December 15, 2015 - 13:09 AMT
PanARMENIAN.Net - Screen Media Films has acquired the U.S. rights to Pedro Morelli's "Zoom", starring Gael Garcia Bernal, Alison Pill, Jason Priestley, Mariana Ximenes and Tyler Labine, for a third-quarter release, according to Variety.
The movie, which premiered at the Toronto International Film Festival in September, is produced by Niv Fichman ("Into the Forest") and Andrea Barata Ribeiro ("Blindness," "City of God"), and executive produced by Fernando Meirelles and Paulo Morelli.
"Zoom," directed by Pedro Morelli from Matt Hansen's script, is an inter-related story between a comic book artist (portrayed by Pill), a novelist (Ximenes) and a film director (Bernal). Each lives in a separate reality, but authors a story about one of the others.
"The part-toon pic's neatly collapsing structure and pop-art flourishes ensure it's never dull," Variety's Guy Lodge wrote in his review.
Production companies are Rhombus Media and O2 Filmes. The film was produced with the participation of Telefilm Canada, ANCINE, BRDE, FSA, Ontario Media Development Corporation, SP Cine, ProAc SP, Governo SP, Cachaça 51, Danone, BBDTVM and Nextel, in association with Movie Central, The Movie Network and Telecine.