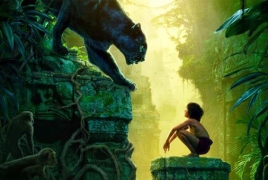 December 17, 2015 - 10:25 AMT
PanARMENIAN.Net - After releasing the first official trailer and an international trailer for "The Jungle Book", Walt Disney Pictures has unveiled a new Vine video as a teaser for the second trailer, along with a motion poster, AceShowbiz said. Both of them show central character Mowgli in the jungle with its inhabitants.
The video is a brief trailer preview which shows a glimpse of Baloo the bear in a cave with Neel Sethi's Mowgli, Bagheera the panther, Shere Khan the tiger, Kaa the python and King Louie the ape. The new trailer will be shown before "Star Wars: The Force Awakens" 3D screening. As for the motion poster, it sees Mowgli holding a torch amidst a jungle.
Based on Rudyard Kipling's timeless stories, "The Jungle Book" follows the adventure of Mowgli, a man-cub raised by a family of wolves. Finding out that he is no longer welcome in the jungle, Mowgli embarks on a captivating journey of self-discovery, guided by panther-turned-stern mentor Bagheera and the free-spirited bear Baloo. Along the way, Mowgli encounters jungle creatures who don't exactly have his best interests at heart: Kaa and King Louie.
"The Jungle Book" blends live-action with CGI animals and environments in which Mowgli becomes the only real life character in the film. Idris Elba, Scarlett Johansson, Bill Murray, Lupita Nyong'o, Ben Kingsley, Christopher Walken and Giancarlo Esposito are in the voice cast. Directed by Jon Favreau, the live-action/CGI film is slated for a U.S. release on April 15, 2016.