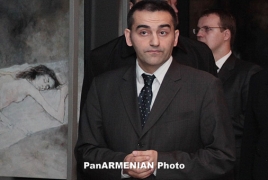 December 25, 2015 - 17:52 AMT
PanARMENIAN.Net - 2015 proved that the Armenian Genocide Museum-Institute (AGMI) is the most important venue for researching the tragedy, given the huge archive the institution possesses, AGMI Deputy Director said, according to Panorama.am.
"It is no accident that so many foreign scholars come here for scientific research," Suren Manukyan said. "To this end, we have initiated the Raphael Lemkin scholarship, giving foreigners an opportunity to conduct research at the AGMI and other Armenia-based archives and libraries."
Commenting on the Museum's achievements throughout 2015, Manukyan dwelled upon AGMI's cooperation with USC Shoah Foundation, Paris Memorial de la Shoah, the Canadian Museum for Human Rights, Lidice Memorial in Wisconsin, Russian Research and Educational Holocaust Center, State Memorial Museum of Leningrad Defense and Blockade, Museum of the Great Patriotic War in Moscow among other institutions.
"A number of summits have been organized throughout the year, the most important of them being the 12th conference of the International Association of Genocide Scholars (IAGS)," Manukyan noted.
According to the Deputy Director, AGMI scholars have participated in a number of international conferences in Copenhagen, Chicago, New York, Berlin, Edinburgh, Siena, Buenos Aires, Moscow, Riga, Los Angeles and other cities.
Also, 2015 was a significant year in terms of publications, he said, with AGMI having printed over 70 books, monographs and collections in 2011-2015.
The Armenian Genocide Museum-Institute was included in the Forbes' list of must-see memorial museums.