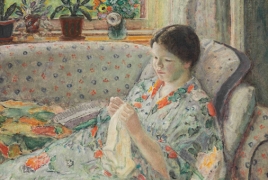 January 12, 2016 - 17:26 AMT
PanARMENIAN.Net - In 2015, the Georgia Museum of Art at the University of Georgia added 320 objects to its permanent collection through gift or purchase, Art Daily reports. Two of these objects are especially important: a 17th-century portrait by Sir Anthony van Dyck and an American Impressionist painting by Frederick Carl Frieseke. Both paintings will be on view in the museum's permanent collection galleries starting January 13.
Van Dyck's painting, a large portrait of Archbishop William Laud, was donated to the museum by Dr. and Mrs. M. Daniel Byrd, of Atlanta. Van Dyck, a native of Antwerp, Spanish Netherlands, became the premier court painter in England under the patronage of King Charles I. Trained as an artist from the age of 10, he opened a studio with his friend and fellow artist Jan Brueghal the Younger by the age of 15. While working as an assistant to the Flemish artist Peter Paul Rubens, Van Dyck is said to have restored a damaged painting so perfectly that Rubens did not realize it had been repaired until many years later.
The sitter for this painting, Laud (1573–1645), served as Archbishop of Canterbury under the reign of King Charles I of England from 1633 to 1640. Laud worked closely with the king to root out nonconformity in the Anglican Church, but his policies put him in conflict with Puritan leaders who thought his methods and doctrine dangerously close to those of Roman Catholicism. In 1640, Parliament charged Laud with treason and imprisoned him. Unable to find specific evidence, the lawmakers passed a bill declaring Laud guilty and punishing him without a trial. He was executed by beheading in 1645 despite being granted a royal pardon.
The painting is on display in the museum's H. Randolph Holder Gallery. Lynn Boland, Pierre Daura Curator of European Art, said, "This world-class example of 17th-century portraiture, offering multiple avenues for interdisciplinary study, will serve as a lynchpin for the museum's small but important collection of European painting. Acquisitions of this significance would be beyond our reach were it not for the generosity of donors like the Byrds."
The museum purchased Frieseke's "Girl Sewing (The Chinese Robe)" with funds given by the Chu Family Foundation. Dr. David Chu is a distinguished research professor emeritus in UGA's College of Pharmacy. He and his wife, Jane, made this financial gift through their family foundation with the specific goal of the museum's purchasing a significant American painting. It will be unveiled at an event in the galleries on January 13 at 11 a.m.
Sarah Kate Gillespie, curator of American art, said, "Frieseke was an important force in American Impressionism, particularly among those Americans working in the colony of Giverny, France, adjacent to Clause Monet's gardens. He enjoyed great popularity on both sides of the Atlantic. This particular work not only fills what had been a major gap in the genre within our collection, but also very much complements our current holdings in American Impressionism."