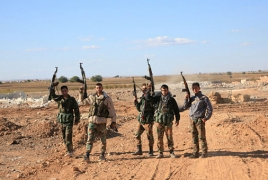 January 25, 2016 - 12:16 AMT
PanARMENIAN.Net - Syrian pro-government forces recaptured a key rebel-held town in coastal Latakia province on Sunday, January 24, building on battlefield advances in the area ahead of planned peace talks this week in Geneva between Damascus and Syria's opposition, Reuters reports.
Government troops and militiamen, supported by Moscow's air power and joined on the ground by Lebanese Hezbollah fighters and Iranian forces, have pressed offensives in the west and northwest of the country in recent months, seeking to reverse gains made by insurgents last year.
The recapture of the town of Rabiya in Latakia province has paved the way for an advance up to the border with Turkey, the Britain-based Syrian Observatory for Human Rights said. Syrian state television confirmed Rabiya's capture.
The Observatory described Rabiya as the "second most important base for (rebel) fighters in the northern Latakia countryside" after the town of Salma, which pro-government forces seized earlier this month in one of the most significant advances since Russia joined the fight.
The United States has said it is confident the talks in Geneva will go ahead this week despite continued disagreements.
Lead opposition negotiator Mohamad Alloush said Kerry had put pressure on them to attend the Geneva talks in order to negotiate a halt to Russian bombardments, the lifting of blockades and the release of detainees - measures it has insisted must be implemented before any negotiations go ahead.
Kerry came to pressure us to give up our humanitarian rights, Alloush, a politburo member of rebel group Jaysh al-Islam (Islam Army) said. According to him, there will be a big response to these pressures.