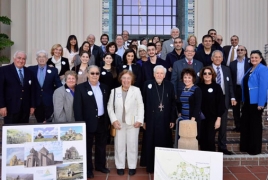 January 26, 2016 - 13:43 AMT
PanARMENIAN.Net - In a historic vote of 11-0, the California State Coastal Commission approved St. John Garabed Armenian Church's application to build a new church campus near Del Mar, California.
The new campus, which will be built in stages over a period of several years, will include a sanctuary, social hall, education center, library, gymnasium, youth center, Armenian heritage park, picnic and meditation space, and abundant parking.
In his remarks to the Coastal commissioners, Harry Krikorian, chairman of the church's Trust Fund Committee, stated, "Our proposed plans are for a place of worship, a place to socialize, a place for remembrance, and a place to preserve our culture, traditions and heritage. We are not a commercial enterprise but a non-profit Christian Church with a rich and proud history.
"Therefore, we disagree with staff that building a 50 foot church without the dome as they suggest is equally good and as functional as our design. We respect Coastal staff who reviewed and analyzed our project, however we find that conditions 1A & 1B do not meet the needs of our church nor satisfy our religious requirements."
Archbishop Hovnan Derderian, Primate of the Western Diocese, stated, "This is a historic day for us as we present this proposal, and it comes in the context of a very important time in our church history. Just recently we commemorated the centennial of the Armenian Genocide, and very soon we will be celebrating the 90th anniversary of the Western Diocese. This church campus will not only be a symbol of our Christian faith, but also a stronghold to unite communities around the world. On behalf of the Diocesan clergy, the Diocesan Council, and all Armenians, I respectfully ask you to accept the proposal as it has been presented."