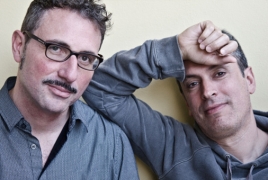 January 27, 2016 - 18:55 AMT
PanARMENIAN.Net - Germany's The Match Factory has taken international sales on "Sicilian Ghost Story", the non-conventional Mafia pic now in pre-production to be directed by hot Italian directorial duo Fabio Grassadonia and Antonio Piazza, Variety reports.
Project is among winners of this year's Sundance Institute Global Filmmaking Award. Billed as a Brothers Grimm meets Cosa Nostra pic, "Sicilian Ghost Story" is about a 13-year-old Sicilian girl named Luna who refuses to accept the sudden disappearance of Giuseppe, the young boy she loves, when he is kidnapped because he is the son of a Mafia boss.
Pic set to start shooting this fall, is being produced by Massimo Cristaldi in tandem with Indigo Film, the shingle behind Paolo Sorrentino's "The Great Beauty." Gaul's Mact Prods. and JPG Films, and Match Factory, are co-producing.
Grassadonia and Piazza's feature debut "Salvo," an atmospheric Sicilian hit-man thriller, made a splash after launching from the Cannes Critics' Week in 2013.
"We are so honored to receive such a prestigious international prize, in recognition of our screenplay for 'Sicilian Ghost Story,' " enthused Grassadonia and Piazza from Park City, where they received the Sundance Institute nod. "It was not to be taken for granted that such a quintessentially Sicilian story would resonate so far from our country." The screenplay was penned while at the Sundance Institute's Screenwriters Lab.
They are calling "Sicilian Ghost Story" a Sicilian fable with landscapes and situations that you would not expect, like a Brothers Grimm world of forests and ogres.