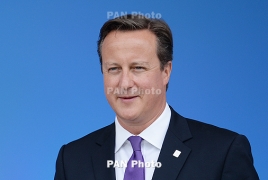 February 5, 2016 - 14:46 AMT
PanARMENIAN.Net - Poland has said it supports aspects of David Cameron's EU renegotiation package but plans to limit benefits for EU migrants need "further discussion," BBC News reports.
Speaking as she met Cameron in Warsaw, Polish PM Beata Szydlo said she backed the UK's plans to boost national sovereignty and raise competitiveness.
But she said changes to welfare needed to be "ironed out" to ensure Poles in the UK were not disadvantaged. Cameron is trying to garner support for an EU-wide deal in two weeks time.
The support of Poland, the Czech Republic, Hungary and Slovakia - the so-called the Visegrad group - is seen as crucial if the prime minister is to get an agreement to his draft renegotiation package at a summit of EU leaders on February 18 and 19, paving the way for a UK referendum in June.
Proposals to curb EU migrants' benefits are the main sticking point, with Poland and other countries warning that it breaks freedom of movement rules and discriminates against their citizens, BBC says.
At a joint press conference in Warsaw, Ms Szydlo said it was "very important" for the UK to remain in the EU and she threw her weight behind at least two of Mr Cameron's four main proposed changes, on giving more power to national Parliaments and slashing regulation to make the EU more dynamic.