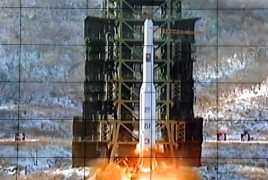 February 6, 2016 - 15:36 AMT
PanARMENIAN.Net - North Korea has moved up the window of its planned long-range rocket launch to February 7-14, South Korea's Defense Ministry said Saturday, February 6, according to the Associated Press.
The launch, which the North says is an effort to send a satellite into orbit, would be in defiance of repeated warnings by outside governments who suspect it is a banned test of ballistic missile technology.
North Korea did not inform international organizations of any other changes in its plan, and the rocket's expected flight path remains the same, said South Korean Defense Ministry spokesman Moon Sang Gyun.
On Tuesday, the North informed the International Maritime Organization and other related organizations that it would attempt a satellite launch between February 8 and 25. No reason was given Saturday for the change of dates, AP says.
Recent commercial satellite imagery analyzed by U.S. researchers showed tanker trucks at the launch pad at North Korea's Sohae facility, which likely indicates the filling of fuel and oxidizer tanks in preparation for the launch. It is not yet clear if a rocket is on the launch pad yet, according to the North Korea-focused 38 North website.