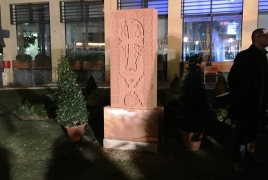 February 29, 2016 - 18:01 AMT
PanARMENIAN.Net - A khachkar commemorating the Armenian Genocide was unveiled, blessed and consecrated at the central park of Aix-en-Provence, a city-commune in the south of France.
The event was organized by the Aix-en-Provence city hall, the local Armenian community, and Hays Club, with the support of Armenia's Embassy in France and the Consulate General in Marseilles.
Armenia's ambassador to France Vigen Chitechyan, Consul Samvel Lalayan, Bouches-du-Rhône vice prefect Serge Gouteyron, Aix-en-Provence mayor Maryse Joissains-Masini, representatives of regional and municipal bodies participated in the ceremony.
According to the mayor of Aix-en-Provence, the khachkar aims to pay tribute to the memory of the Genocide victims and raise awareness of the atrocities perpetrated against Armenians in 1915.
Also addressing the attendees was president of Hays Club Michele Der-Kevorkian, while ambassador Chitechyan hailed local authorities and the Armenian community for sparing no effort to have the khachkar unveiled.
The event was extensively covered by local media outlets.