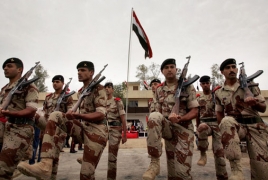 March 1, 2016 - 12:02 AMT
PanARMENIAN.Net - Iraq said its security forces have launched a new push to retake a key area north of the capital, Baghdad, and dislodge Islamic State militants from there, the Associated Press reports.
A statement by the Joint Operations Command said the "new offensive" began early Tuesday, March 1, in an agricultural area northeast of the city of Samarra, with the aim to cut IS supply lines. Samarra is 95 kilometers (60 miles) north of Baghdad.
The command said paramilitary forces, mostly Shiite militias, and the Iraqi air force are backing the push on the area, called Jazerat Samarra.
The offensive comes on the heels of two massive bombings in as many days by the Islamic State group in the area — in the town of Muqdadiyah and in Baghdad — that killed at least 110 people.