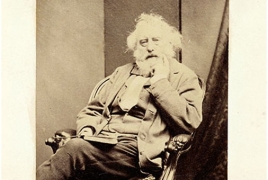 March 2, 2016 - 18:01 AMT
PanARMENIAN.Net - New research into the links between Liverpool and the Pre-Raphaelite movement, for the Walker Art Gallery's exhibition Pre-Raphaelites: Beauty and Rebellion, has uncovered the only image to have been located of the well known collector and patron of the Pre-Raphaelites, John Miller: it is now possible for us to look upon his face for the first time ever. The photograph itself is published for the first time in the exhibition catalogue.
This recently discovered albumen print photograph of Miller, found amongst the papers of the Lushington family archive at the Surrey History Centre, is, to date, the only located image of the Liverpool merchant and art collector. The Lushingtons knew many of the Victorian era's most famous people, and one of them, the lawyer Vernon Lushington, knew John Miller. Working through the archive, historian and archivist David Taylor uncovered some 19th-century 'albumen print' photographs from Vernon's collection, including one of an elderly man with bushy white hair.
Dr Taylor, and Ann Bukantas, Head of Fine Art for National Museums Liverpool, who was concurrently researching Miller, together realised this was the first and only image of Miller to have been uncovered.
A number of paintings, sculptures and drawings of Miller are known to have been made – including a drawing by Ford Madox Brown – but frustratingly, to date these all remain untraced. Notably, Ford Madox Brown made a chalk drawing of Miller in 1873 (untraced) which he wrote about in letters to the Liverpool collector George Rae and to his daughter Lucy Madox Brown. The portrait was admired also admired as a good likeness by Miller's daughters. Miller's appearance in the Lushington photograph suggests a date of around 1873-6 - the last few years before his death in 1876. It is therefore likely that the photograph shows the identical features captured in Brown's drawing.
John Miller arrived in Liverpool from Lanarkshire in the first quarter of the 19th century, a young entrepreneur keen to make his fortune in Liverpool's rapidly expanding economy. Through trading goods including timber, he made enough money to start collecting art – and as the 1850s progressed he began to accumulate more pictures than he had wall space. He also dabbled in picture dealing. In particular he became a passionate supporter, promoter and collector of Pre-Raphaelite art, from the major figures like John Everett Millais to the Liverpool School painters including William Davis. Miller has long been regarded as one of the most important of the Pre-Raphaelites' collectors, but only a limited amount has been known about him, largely through letters he exchanged with the artists, including Ford Madox Brown and Rossetti, and with fellow collectors. Bukantas's new research on Miller is published in the exhibition catalogue and gives us a fuller understanding of who Miller was. It is accompanied by an essay by Dr Taylor on Vernon Lushington and Miller.
Dr Taylor will hold a free lecture at the Walker Art Gallery on 5 March, 1-2pm.