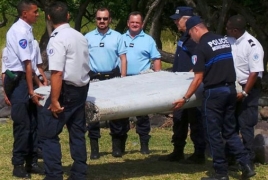 March 2, 2016 - 22:38 AMT
PanARMENIAN.Net - An object which could be debris from missing plane MH370 has been found off the coast of Mozambique, the Daily Mirror reports.
The debris from a Boeing 777 jet is being examined by investigators following the discovery.
The jet vanished almost two years ago with 239 people on board and is the only missing Boeing 777 in the world.
The Malaysia Airlines plane is believed to have crashed somewhere in the southern Indian Ocean but only small fragments of the jet have ever been found, the Daily Mirror says.
In July, a piece of the plane washed up on the French island of Reunion in the Indian Ocean.
The latest discovery was made on a sandbank in the Mozambiqiue Channel - near Reunion island.
The piece of metal is believed to be part of the plane's horizontal stabilizer.
Investigators in Malaysia, Australia and the U.S. have reportedly looked at photographs of the latest object and sources say there is a good chance it derives from a Boeing 777.
It is still not known how the jet crashed but a Australian Transport Safety Bureau (ATSB) report is expected to find it was either crashed deliberately - most likely by the pilot.