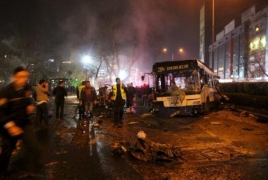 March 14, 2016 - 07:45 AMT
PanARMENIAN.Net - A car bomb tore through a crowded transport hub in the Turkish capital, Ankara, on Sunday, March 13, killing at least 34 people and wounding 125 in the second such attack in the administrative heart of the city in under a month, Reuters reports.
The blast, which could be heard several kilometers away, sent burning debris showering down over an area a few hundred meters from the Justice and Interior Ministries, a top courthouse, and the former office of the Prime Minister.
"These attacks, which threaten our country's integrity and our nation's unity and solidarity, do not weaken our resolve in fighting terrorism but bolster our determination," President Tayyip Erdogan said in a statement.
Two senior security officials told Reuters the first findings suggested that the Kurdistan Workers Party (PKK), which has waged a three-decade insurgency for Kurdish autonomy, or an affiliated group, was responsible.
There was no immediate claim of responsibility, but Interior Minister Efkan Ala said the name of the group behind the attack would likely be announced on Monday after initial investigations were completed.
The bombing came two days after the U.S. Embassy issued a warning that there was information regarding a potential attack on government buildings in the Bahcelievler area of Ankara, just a few km away from the blast site.
One of the security officials said the car used in the attack was a BMW driven from Viransehir, a town in the largely Kurdish southeast, and that the PKK and the affiliated Kurdistan Freedom Hawks (TAK) appeared to be responsible.
TAK claimed responsibility for the previous car bombing, just a few blocks away, on Feb. 17. That attack targeted a military bus as it waited at traffic lights, and killed 29 people, most of them soldiers, near the military headquarters, parliament and other key government institutions.
A police source said there appeared to have been two attackers, one a man and the other a woman, whose severed hand was found 300 meters from the blast site.
The explosives were the same kind as those used on Feb. 17 and the bomb had been reinforced with pellets and nails to cause maximum damage, Reuters quoted the source as saying.