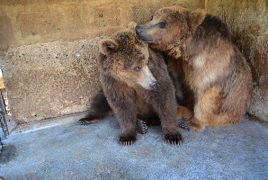 March 23, 2016 - 13:28 AMT
PanARMENIAN.Net - The Foundation for the Preservation of Wildlife and Cultural Assets (FPWC) with the support of Brigitte Bardot Fondation and Armenia's Ministry of Nature Protection will transfer two bears, which were brought to Yerevan from a Gyumri private zoo, to Libearty Bear Sanctuary in Romania on Wednesday, March 23.
Libearty Bear Sanctuary is a closed area of several hectares, which hosts bears with physical and psychological problems.
Fondation Brigitte Bardot, the main French animal welfare NGO has shouldered the expenses for food, care and transportation of the bears since November 2015. And the representatives of the Fondation just arrived in Armenia to accompany the bears to their new place of residence in the Romanian Sanctuary.
"The bears, Masha and Misha, whose plight has shocked public opinion over the world, will leave their cages for a natural environment," said the founder of the Fondation and the world famous French actress Brigitte Bardot. "It's a chance, a hope for all the wild animals unjustly imprisoned, deprived of liberty. The FPWC and my Foundation have worked together, with the support of the Ministry of Nature Protection, to achieve this result. Beyond this particular case, I am pleased to learn that this Ministry will present on Friday a proposal to strengthen national legislation so that there is no "zoo of shame" as the one discovered in Gyumri. Armenia is now an example, the image of a progressive country, respectful of animals."
The cooperation between the Foundation for the Preservation of Wildlife and Cultural Assets and the Brigitte Bardot Fondation will be continuous.
The public attention centered on Gyumri private zoo animals after a Daily Mail publication, which calls the place "the world's saddest zoo." The zoo had only two bears and three lions.