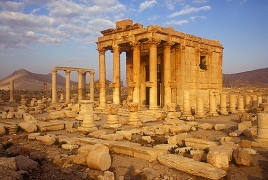 March 25, 2016 - 18:23 AMT
PanARMENIAN.Net - Syrian soldiers recaptured the old citadel of Palmyra overlooking the city's ancient ruins on Friday, March 25, state media and a monitoring group said, in an offensive which could open up much of eastern Syria to government forces, Reuters reports.
The recapture of Palmyra, which the Islamist militants seized in May 2015, would mark the biggest single gain for President Bashar al-Assad since Russia intervened in September and turned the tide of the five-year conflict in his favor.
Palmyra is the site of some of the most extensive ruins of the ancient Roman empire, and temples and tombs were dynamited by Islamic State fighters in what the United Nations has described as a war crime.
The scale of Friday's fighting reflected how much of a strategic prize the city represents, with jets launching dozens of air strikes and soldiers firing mortar barrages, while Islamic State fighters hit back with two car bombings.
Russian warplanes have continued to support the Syrian army and its allies as they push their offensive on the desert city, despite Moscow's recent announcement that it was withdrawing the bulk of its military forces.
Beirut-based television channel Al-Mayadeen, broadcasting from the edge of Palmyra, showed a low-flying jet carry out three air strikes against what it said were Islamic State fighters withdrawing from the old citadel back into Palmyra.
State television and Al-Manar, the television station of Lebanon's Hezbollah group, later quoted military sources saying government forces had seized the citadel, located above the ancient ruins.
The Britain-based Syrian Observatory for Human Rights confirmed the citadel had been captured. It said there were 56 air strikes between dawn and early afternoon on Friday.