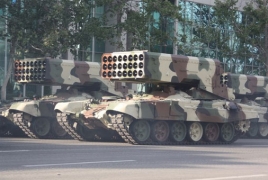 April 4, 2016 - 13:55 AMT
PanARMENIAN.Net - Armenian artillerymen neutralized an Azerbaijani TOS-1A Solntsepyok multiple rocket launcher; also, an unmanned aerial vehicle was downed by air defense units, the Armenian Defense Ministry spokesman said.
"Unable to break through the Armenian defense line, Azerbaijani subdivisions tried to use heavy equipment, including TOS-1 rocket launchers and military drones," Artsrun Hovhannisyan said. "But the Armenian troops destroyed both the rocket launcher and the unmanned aerial vehicle."
Azerbaijani armed forces have 18 units of TOS-1 rocket launchers at their disposal.
On the night of April 1-2, Azerbaijani armed forces initiated overt offensive operations in the southern, southeastern and northeastern directions of the line of contact with Nagorno Karabakh.
As many as 18 Karabakh servicemen were killed and 35-40 were wounded in the course of military operations. A civilian, 11-year-old Vaghinak Grigoryan was also killed, with 6 other civilians, including two kids, wounded.
As of April 4, the Azerbaijani side has lost 20 tanks and over 5 armored vehicles, including an IFV, as well as 1TOS-1A Solntsepyok multiple rocket launcher,2 military helicopters and 6 unmanned aerial vehicles.
One Karabakh tank has been destroyed so far.