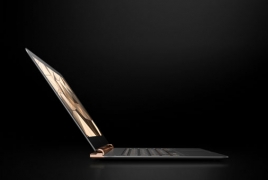 April 5, 2016 - 15:24 AMT
PanARMENIAN.Net - HP unveiled "world's thinnest" Spectre 13.3 laptop, Engadget reports.
"HP newest laptop, the Spectre 13.3, isn't like anything else in the company's lineup. In contrast to the company's candy-colored Chromebooks and plain silver notebooks, the Spectre was inspired by jewelry and women's purses. In fact, HP chose to unveil it not at CES or any other tech conference but at a luxury showcase in Versailles. And, at 10.4mm thin, the Spectre is about as thick as a AAA battery, making it not just the skinniest PC in HP's portfolio but the slimmest notebook on the entire market. Think of it as HP's answer to Apple's 12-inch MacBook, except with a bigger screen, extra horsepower and a little more bling.
It looks striking in photos and even more so in person. Yes, it is is very, very thin, and though it's not technically the lightest, at 2.45 pounds, it is still extremely easy to hold. The combination of metal and carbon fiber helps the machine feel at once compact and well-made. With this system, HP went with the same brownish "Ash Silver" shade that it experimented with on some high-end, special-edition machines.
A piston-style hinge inspired by upscale cabinetry allows the 13.3-inch Gorilla Glass screen to almost float above the keyboard. (The skinny bezels also add to the effect.) As you'd expect, HP had to go with a non-touch screen to keep the machine's thickness down. That said, it offers brighter colors than some other non-touch panels, thanks in part to an optical-bonding manufacturing process that enables the display to be very thin. Some shoppers might be disappointed by the middling 1080p resolution, though a higher pixel count would have made the battery life situation even more challenging.
Slight flashiness aside, what makes the Spectre 13.3 different from rivals such as the MacBook is that HP didn't need to use Intel's lower-powered Core M chips to achieve such a thin design. Instead, the Spectre is powered by your choice of sixth-gen Core i5 or i7 processors, helped by up to 8GB of RAM and PCIe solid-state drives with up to 512 gigs of storage. It also brings more ports than you might expect: three USB Type-C connections, two of which support Thunderbolt," Engadget said.